Buy Blackguards:
http://store.steampowered.com/app/249650/
Blackguards 2 Steam exclusive content: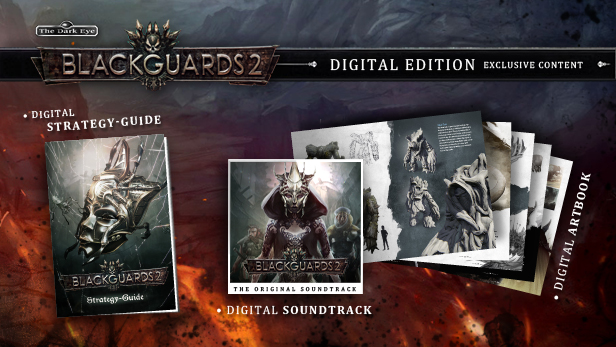 Tentang Game

Blackguards 2 is the turn-based RPG sequel and will offer battles in bewitched locations and an even gritter story full of violence and crime.
Choose your game mode: no matter if frontline combat monster, mage or long range fighter, it is in your hands how you want to develop your character. Every action has consequences, so make your decisions wisely. Death may be lurking.
It has been three years since the conspiracies of the Count of Uria. The Conquerors of the Nine Legions have long gone in different directions but life in Aventura has continued. Cassia, a young woman of noble ancestry, has only one goal: She wants to claim the Trickster Throne, no matter the price, and be one for just one day. Unfortunately, there are two issues that potentially frustrate your plans. First, she spends her days stuck in a dungeon, and second, there is already a man on this throne: Marwan. She neither likes nor dominates issues of diplomacy or politics, so she chooses a … more practical approach. She plans to run away from the jail and beat Marwan to claim the throne. For this she needs strong allies. She needs to recruit an army of Mercenaries and duel with the Pathfinders of the Nine Legions around her. Sounds like a solid plan, does not it? But then again, how smart a person must be to escape the walls of the dungeon; and how audacious it must be to gather and command the worst of kingdoms?

Recruit mercenaries, find upgrades and build an invincible army.
Find the Pathfinders of the Nine Legions and know what happened to Takate, Naurim and Zurbaran
A story with many twists and turns, fateful decisions and more than 20 challenging hours of gameplay waiting for you
Command up to 20 characters in your group and lead them to death or glory
Master and finish the game on many different non-linear paths
Make decisions that influence your team and the end of the game
Choose your spells, talents, and abilities with intelligence as they dictate your strategy on the battlefield. Prioritize offense or tactics in challenging battles
Interact with your environment and let the walls crumble, or even discover new routes on your journey through Aventura
Destroy your enemies with powerful spells and abilities. But be alert: your enemies can do this too