Dahulu kala di Dunia Imagi …
SELAMAT DATANG DI TEATER KOMPETISI TERBESAR TERBESAR YANG TERLIHAT!
Imagi adalah negara di mana karakter dongeng tinggal, dengan orang-orang jahat dan damsels dalam kesulitan. Sedemikian rupa sehingga menjadi pangeran menawan adalah jalan berbahaya di mana sarung tangan benar-benar datang! Dua, tiga atau empat pemain semua berpura-pura menjadi pangeran yang harus bertahan dari serangkaian tantangan, tujuannya adalah untuk … membuat yang lain gagal! Kompetisi akan sulit, tetapi sangat lucu! The Great Romantic Games of Imagi siap untuk memulai! Pesaing pertama membuat pintu masuk mereka: Pangeran Tampan biasa dan Putri tercinta Abraca-nya, Hansel dan Gretel (dua anak besar) dan beberapa makhluk berwarna-warni sedang menunggu untuk terjun ke pertempuran. Dan bahkan ada lebih banyak juara untuk daftar ini: Don Quichotte, seorang masochist BBW (Big Bad Wolf) diikuti oleh Red Hood yang jahat. Muncullah panas, karena Putri Salju datang dari utara dan dia membawa binatang berbulu besar bersamanya! Tapi mimpi persahabatan bersama antara bangsawan tinggi akan runtuh ketika menghadapi kenyataan pertarungan ekstrim melawan monster dan jatuh tanpa henti ke dalam perangkap dan lubang di mana-mana! Kesetiaan, keberanian, kehormatan – lupakan mereka semua! Lawan-lawan mereka yang paling ganas akan saling memiliki, karena hanya para pesaing yang paling licik yang bisa memenangkan perlombaan bawah tanah gratis ini!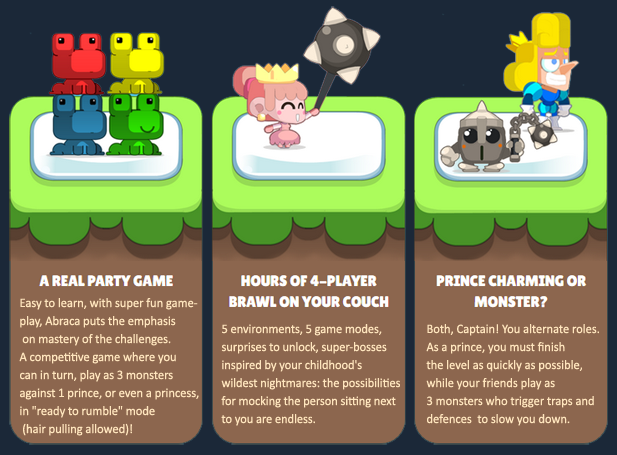 – FAIRY TALES from your childhood… in a WHACKY version: : Istana, naga, pangeran, putri duyung, penyihir, dan kacang ajaib yang akan membangunkan Anda anak batin dan memungkinkan Anda, akhirnya, menghapus senyum bodoh dari wajah para pahlawan murahan itu …
– At last, a real PARTY GAME… FOR GAMERS: Mudah dan menyenangkan untuk dimainkan, sulit untuk dikuasai. Gameplay bebas-untuk-semua kompetitif, di mana tiga dari Anda monster dapat menghadapi satu pangeran, atau berdiri di sandal putri dalam mode siap-gemuruh.
– HOURS OF RUN AND FIGHT: multiplayer lokal offline hingga 4 pemain saja; 5 lingkungan, 2 mode multiplayer, 3 mode Challenge / Scoring, kejutan untuk membuka kunci dan megabosses (terinspirasi oleh mimpi buruk terdalam Anda.) Semua ini akan memberi Anda banyak kesempatan untuk tertawa dan mengejek Anda sofa tetangga!
– PRINCE CHARMING or BEAST?
Keduanya, sayangku. Sebagai salah satu dari 5 pangeran (masing-masing dengan kekuatan unik mereka), Anda harus menyelesaikan setiap tahap secepat mungkin, sementara 3 monster lawan Anda mengaktifkan perangkap dan pertahanan untuk memperlambat Anda dan membuat Anda jatuh. Anda juga dapat memainkan seorang putri, melawan 3 dari "teman terbaik" Anda di arena untuk memberikan bonus kehidupan kepada pangeran Anda untuk tahap berikutnya. Kekuatan cinta…
Hati-hati, ABRACA adalah gim pengontrol-eksklusif, Anda akan membutuhkan 1 pengontrol per pemain. Pastikan Anda memiliki perangkat semacam itu sebelum Anda membeli gim tersebut. Permainan hanya dapat dimainkan dalam mode multiplayer lokal offline hingga 4 pemain.