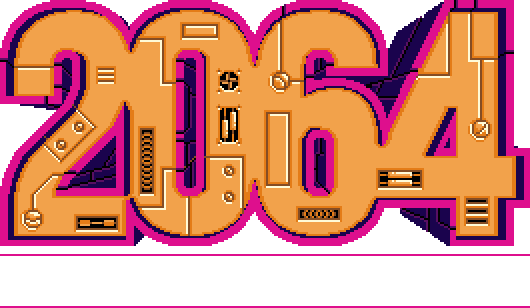 2064: Kenangan Hanya Baca menggabungkan game 
petualangan jadul dengan penceritaan modern 
untuk mengeksplorasi beberapa tantangan sosial 
yang akan kita hadapi dalam waktu dekat. 
Jelajahi metropolis masa depan Neo-San 
Francisco yang penuh warna, bertemu dengan 
tokoh-tokoh besar yang memukau dan memecahkan 
misteri yang sangat luas. 
Pikirkan baik-baik tentang pilihan Anda, 
karena Anda tidak pernah tahu bagaimana 
mereka akan mempengaruhi narasi yang 
dinamis dan bercabang ini lebih jauh.
Dunia sedang berubah.
Perubahan genetika manusia sekarang sudah biasa, dengan banyak orang memilih untuk secara radikal mengubah tubuh mereka untuk mengekspresikan individualitas mereka. Kecerdasan virtual yang disebut ROM (Relationship and Organizational Managers), dibuat sebagai asisten digital sederhana, menggunakan kontrol yang lebih besar atas kehidupan orang-orang. Beberapa takut dengan perubahan yang cepat ini, dan mereka bersedia melakukan tindakan ekstrem untuk mencegahnya.

ROM yang hilang bernama Turing menerobos masuk ke apartemen seorang wartawan yang sedang berjuang untuk meminta bantuan. Mereka mengklaim sebagai mesin hewani pertama — bukan simulasi kehidupan tetapi makhluk buatan yang benar-benar sadar diri — dan jenius teknis yang menciptakannya telah hilang. Bisakah Anda mengungkap konspirasi mengejutkan yang mengancam mengguncang seluruh masyarakat? Ataukah kegelapan yang ada di balik lampu neon terang Neo-SF mengonsumsimu?

Old-school, cutting-edge – petualangan klasik point-and-click yang terinspirasi oleh orang-orang seperti Gabriel Knight dan Snatcher disatukan dengan penceritaan bercabang modern yang menggali identitas, individualitas, dan apa artinya menjadi manusia

Orang masa depan– Kenali beragam penampang populasi Neo-SF, dihidupkan oleh beberapa talenta suara terbaik yang bekerja dalam game hari ini, termasuk Melissa Hutchison dan Dave Fennoy (The Walking Dead), Erin Yvette (Oxenfree), Austin Creed ( WWE Xavier Woods), dan bintang internet Jim Sterling (Jimquisition) dan SungWon Cho (ProZD).

High tech nostalgia – Kota Neo-San Francisco ditampilkan dalam seni piksel yang indah, dan petualangan Anda disertai dengan soundtrack elektronik low-fi yang menarik.

Solve the mystery -Nikmati lebih dari sepuluh jam kebaikan game petualangan, menampilkan eksplorasi, percakapan percabangan yang dinamis, berbagai akhiran, dan banyak tantangan untuk diatasi.

The definitive PC edition -

Sejak diluncurkan dua tahun lalu, tim ini telah membuat banyak peningkatan dan penambahan pada game yang sudah luar biasa, menjadikannya versi paling akhir. Penambahan sudah termasuk karakter baru dan pengisi suara, animasi wajah tambahan, dukungan bahasa Jepang, dan epilog diperpanjang "Endless Christmas" yang memungkinkan Anda untuk bergaul dengan penduduk Neo-SF favorit Anda.
Note: Steam cloud saves currently only work on the same platform (i.e. Windows, Mac, etc.)